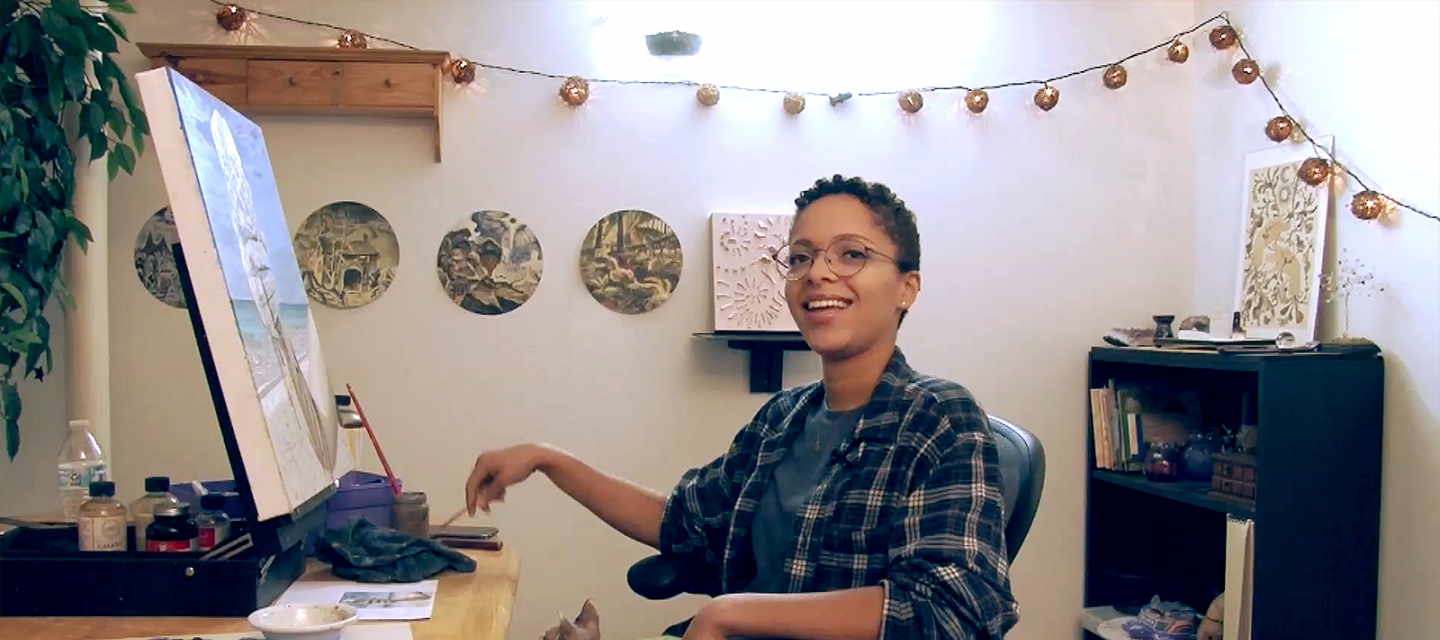 What Is Service-Learning?
Service-learning courses help the local community while teaching students course content—a win-win for both the students and community. Students gain valuable "real world" communication experience and local organizations, frequently nonprofits, gain assistance that helps them to better serve their clientele. Students can list these service-learning experiences on their resumes.
Many Communication Department faculty have incorporated service-learning in their courses, often working with the college's Civic and Community Engagement Office to locate nonprofits as clients for the courses.  
SPC 307 Group Communication: Students develop surveys for local nonprofit organizations.
COM 308 Public Relations Writing: Students have nonprofit organizations as their PR clients, creating writing portfolios for from news releases to web and social media copy. Students can share then these portfolios to prospective employers.
COM 329 Intermediate Video Production: Students created sex education public service announcements for Buffalo State's Weigel Health Center.
COM 650 Public Relations Management: Students work in teams as virtual public relations agencies with clients including businesses and nonprofit organizations.
COM 389 Investigative Reporting and COM 389 Alternative Media: Courses partner with the nationally recognized Project Censored as a remote newsroom. Investigative reporting students used their research skills to validate the accuracy of news stories nominated for Project Censored awards, while Alternative Media students combed through the alternative press to find, validate and nominate stories for Project Censored awards. In both classes, students authored summaries of award-winning validated stories that were published in Project Censored's annual book, Censored, published by Seven Stories Press. 
COM 405 Online Newsroom: Students used a combination of text, video, audio and photos to report on news stories on Buffalo's West Side and then publish them online at Buffalo Review West. Students have broken news stories before the Buffalo-area media and have seen follow-up reports on local TV newscasts. In Professor Joe Marren's COM 405 course, students wrote or edited news items and press releases for a variety of clients.
COM 418 Campaigns in Public Relations and Advertising: Students developed public relations campaign proposals for local nonprofit organizations.
COM 431 Advanced Field Production: Students shot and edited music videos for local clients and a video for a community client in Niagara Falls
COM 433 Advanced Documentary Production: Students partner with arts and human service non-profits to produce short documentary films exploring subjects of importance to those organizations.  
Communication faculty and classes have been recognized for their outstanding community service work with service-learning awards from the college's Civic and Community Engagement Office, including the following.
Reciprocal Partnership Award (2021)
COM Professors Ellen Notarius (COM 337 Electronic News Producing) and Rick Karnath (COM 429 Advanced Multi-Camera Studio Production) and Buffalo Broadcasters Association Vice President Stephen Monaco - for their work on the spring 2021 TV series "Broadcasting Buffalo," demonstrating the principles of reciprocal, collaborative, and mutually beneficial partnerships 
Outstanding Service-Learning Course: 15 Hours or More Required
Professor Deborah Silverman, COM 301 Principles of Public Relations & Advertising (2016)
Professor Ann Liao, SPC 307 Group Communication (2012)
Professor Deborah Silverman, COM 418 Campaigns in PR & Advertising (2010)
Faculty Achievement in Service-Learning
Professor Deborah Silverman, who worked with 150 local nonprofits through her service-learning courses since 2006.  (2017)
Outstanding Faculty Commitment to Service-Learning
Professor Ann Liao, SPC 307 Group Communication (2012)
Professor Deborah Silverman, COM 308 Public Relations Writing (2006)
Outstanding Student Community Service in a Service-Learning Course: 15 Hours or More Required
Lauren Reczek, COM 418 Campaigns in Public Relations and Advertising (2018)
Katelin Shaffer, COM 308 Public Relations Writing (2011)
Jaime Flor, COM 439 Television Directing and Producing (2007)
Kelly Mazella, COM 308 Public Relations Writing (2006)
Outstanding Student Community Service in a Service-Learning Course: 14 Hours or Less Required
Conrad Burgos, Jr., COM 433 Advanced TV Documentary Production (2020)
Outstanding Student Academic Achievement in a Service-Learning Course
Laura Hoover, COM 308 Public Relations Writing and COM 301 Principles of Public Relations & Advertising (2008)
John LaScala, COM 301 Principles of Public Relations & Advertising (2007)