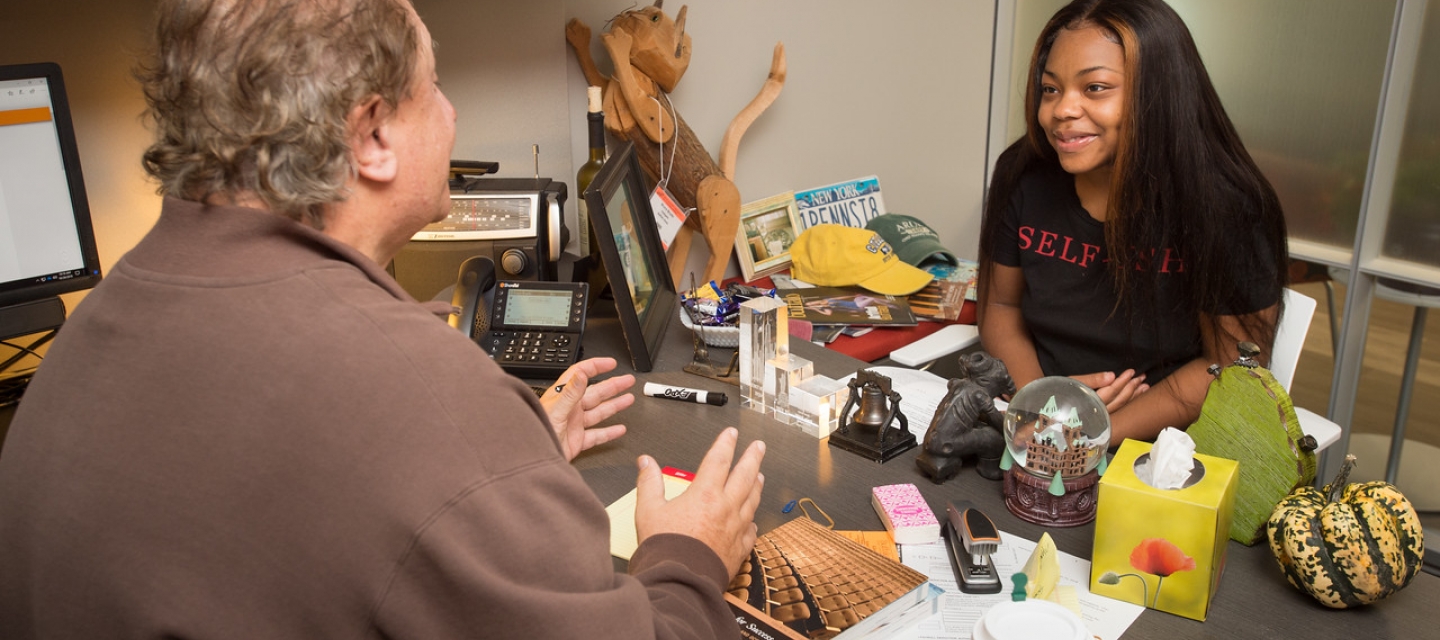 The Communication Department is committed to helping its students make informed educational choices about their major, stay on track for graduation, and meet their personal and professional goals. 
Everything Communication students need to know about advising is included here in our Policy on Student Advising.
Policy on Student Advising
Academic advisement is meant to focus on your ongoing progress toward graduation. It also offers you a mentor so you may assess your academic progress and start to prepare for your post-college career.
Advisement is an opportunity for you to reflect on your academic progress and to discuss choices and alternatives about courses and extra-curricular activities for upcoming semesters. With input from advisers, you will be able to make informed decisions about the courses you will take and how you will proceed toward graduation and beyond.
Your adviser is familiar with graduation requirements and can help you explore options and make informed decisions about your education through the Communication Department. They can recommend minors and extra-curricular activities, and also refer you to services available on campus designed to assist students with both academic and personal challenges. 
Find Your Adviser
Banner (on Student Record page)
Determining Your Adviser
The department will assign you a faculty adviser.
While some students may also work with advisers in other departments or programs—such as EOP, minors, second majors, or varsity athletics—you must also meet with your departmental adviser.
You may initiate a change in advisers simply by asking another faculty member to serve in that capacity and then notifying the department office.
The department chair also is available to advise Communication majors as necessary. Generally, the department protocol is to meet first with your assigned faculty adviser, who then would refer you to the chair if necessary.
Advisement Frequency
The Communication Department requires advisement for every student every semester.
Each faculty member schedules weekly office time to meet with you and other students. Faculty are available through in-person office hours, phone or email, or special appointments. You can ask to meet with your faculty adviser any time during the semester. Communicate regularly with your adviser by telephone, email, or the Bengal Success Portal.
You will receive e-mail notices of advisement/registration periods. However, you are responsible for being informed about the college's schedule and procedures for registration. 
PIN Number
The college assigns most students a PIN number, which is required for registration. You must meet with your department adviser before you get your PIN. 
Print your Degree Works "full report" student audit and bring it to your appointment
Review the report and note the graduation requirements you have completed and those that are remaining
Indentify courses for next semester
Note questions to ask your adviser
Be prepared to update your adviser on your current course progress
Your adviser will review your choices, suggest alternatives, and discuss other matters related to your academic progress and career plans 
Your adviser documents each advisement session on your Degree Works page, which lists the courses that you have been to take, your PIN, and/or any special instructions.