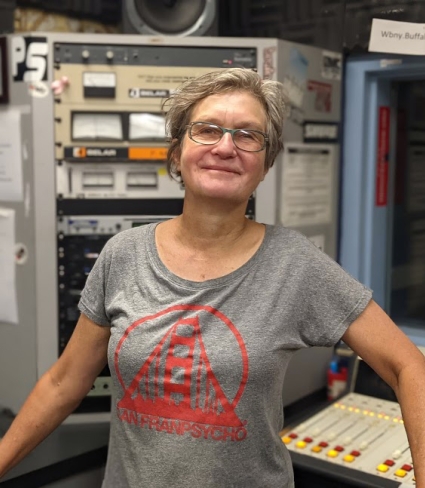 Education
M.F.A., Film and Media Arts, Temple University
Dual B.A. Degree in Arts with Concentration in Communication and Russian Language and Literature, University of Massachusetts Boston
About Dorothea Braemer
Dorothea Braemer, originally from Germany, graduated from the University of Massachusetts in Boston with a dual B.A. degree in Arts with a concentration in Communication and Russian Language and Literature. She received her M.F.A. in Film and Media Arts from Temple University in Philadelphia. In addition to her practice as filmmaker, she has a background in grant writing and arts administration. For ten years she was the executive director of Squeaky Wheel Film & Media Arts Center in Buffalo, NY.
Braemer's media work has been awarded with grants from the New York State Council on the Arts, the Pennsylvania Council on the Arts, production grants from PBS stations WYBE and WHYY, and many others. Her films have screened on television and in festivals in the United States, including the Museum of Modern Art, Canada, Europe, India, and Malaysia, and have garnered awards at the Black Maria Film Festival, the Athens Int'l Film and Video Festival, and the NJ Super 8 Film Festival.
Braemer works in both fiction and non-fiction formats. Her films explore topics ranging from personal documentaries about her family to cultural issues such as Contingency worker exploitation, environmental issues, and the role of art in society. As a member of the award-winning media collective Termite TV she has produced numerous television programs covering a broad range of cultural, social, and political themes. Her 30-minute fiction film Moonsheep was awarded with a Pennsylvania Council on the Arts Fellowships and funded and broadcast by PBS station WYBE.
In 2011 she received a Fulbright Senior Research and Lecture Award to create a documentary about innovative arts organizations in Brandenburg, Germany. Currently she is collaborating with History and Social Studies Professor Steve Peraza on a portrait of Arthur O. Eve, the founder of the EOP Program, for which they received an Incentive Grant at Buffalo State; and a media project about Global Warming for which she received a Global Warming Production Award from the Art Service Initiative of Western New York.
At Buffalo State, Braemer loves to help educate a new generation of media makers in an ever-changing and evolving media industry. Her teaching interests are in visual communication and digital storytelling, media production and post production, proposal writing, and writing for media.